How to Sell Your Products On Facebook
Facebook is a major platform for getting your wares into the hands of delighted customers. It beats other social networking sites in terms of conversion rates, sharing value and numbers of visits. A Facebook 'Like'is more valuable than a tweet or a pin. There are several reasons integrating a shopping experience into your Facebook page is good for business:
Exposure to a Huge Demographic
Every social campaign starts with sharing your products on Facebook to generate likes and backlinks, because it is a platform with millions and millions of users from all over the world who may otherwise never stumble upon your lovely website. By integrating your shop into your Facebook Page, you help this new Facebook community familiarize with your brand and grow loyalty, which increases the chance they will share your page with someone else. You also get the benefit of Facebook's page suggestion algorithm, and Facebook ads, both proven traffic-drivers.
Reach
Facebook commerce allows you to interact with consumers in ways you never could before, and grants you more insight on how your products are being used and liked. Your Facebook Page offers tools for notification, promotions and other communication avenues that open conversations with your customers much easier than traditional methods of fielding customer feedback via email or phone.
It's Where Everyone Is
Big brands and retailers don't need to rely on existing communities as much, as they are frequently visited and have a large inventory, but small retailers, artisans and service providers can benefit hugely from showing up where everyone is hanging out rather than working tirelessly to drive traffic to the far reaches of the 'net where your main site lives. While promoting your main site is still an essential practice, the easy access Facebook provides grants visitors a quick and simplified way to research products, make purchases and connect with their friends and others in the Facebook community right from your product pages. This is only part of why Facebook has proven conversion rates on sales!
Direct Marketing for Promotions
Facebook ads and the very timeline gracing your Facebook Page are powerful tools for promoting sales and special deals. Add a promotional code just for your Facebook followers with directions on how to add the code on Checkout in your Shop tab is an incredibly easy way to encourage direct conversions while rewarding them.
What You Need
If you have ever tried setting up a Facebook shop, you know it takes a lot of duplicated content, or an "iFrame Page Tab" that may not display your site properly or allow visitors to use some functionality due to it not being secure. Your site also needs to be responsive to fit in the narrow space Facebook allows for Page Tabs, and you may not want Facebook visitors to access all the pages or links on your main site. Displaying an insecure main site inside an iframe in Facebook, at best, may result in a "tablet" style view of your shop in your Facebook page, but with broken images and a blocked checkout. Facebook Shop apps are where this process gets much easier.
This article provides professional advice for how to go about getting your Facebook eCommerce rolling with minimal cost and impact to your main site to help reduce rework and design considerations for Facebook's finicky space so you can concentrate on the product content first and foremost.
We'll provide insight into the complexities of setting up page tabs on Facebook and how you can present your visitors with a simple, focused web shop that is powered by your main WordPress site – not duplicated imported content, and how you can overcome the many security challenges your payment provider and Facebook impose.
The important components you need are:
Site running WordPress
Privately Signed SSL Certificate for your domain
WooCommerce
Social Commerce extension for Facebook
Let's explore each one in more detail:
Facebook Security
The first thing to come to terms with is Facebook's strict security policy. This extends to protecting what kind of outside content – anything coming from a site other than facebook.com – its users can interact with. This is done in the spirit of protecting user privacy and sensitive data such as passwords, credit card details and personal information. As such, shops hit a (blank white) brick wall if you attempt to simply feed them into a website tab on your Facebook page, as anything detected as a shop or checkout is blocked unless it is behind SSL.
You will need a professionally signed SSL certificate setup for your domain. This is a Facebook requirement and cannot be skipped!
Additionally, all content you intend to be displayed in the Facebook page must be hosted on the domain your SSL certificate is setup for. If you have cloud-hosted images, for example, your host must assist you in domain masking them and ensuring they are protected by your site's SSL. For more information, check with your host or get a certificate at Host Gator
Once your site is setup behind SSL, you should be able to access the Social Commerce view by browsing to the secure version of your site (this should happen by default).
Example:
https://demo.oboxthemes.com/social-commerce/?obox-fb=1
Why does Facebook Require an SSL Certificate?
WooCommerce Settings
If you are running a shop with Layers, you probably already have this installed and setup. If you are just starting out, be sure to check out How to Configure WooCommerce for Layers before diving into the Facebook setup.
In addition to the general settings recommended for Layers, you must setup the following:
Catalog
Go to
→
Click the

Products

tab
Click the
link at the top
Ensure both boxes in the Add To Cart Behaviour section are unchecked

Ajax add to cart buttons will break continuity in your Social Commerce shop, as the resulting View Cart link cannot receive the right url suffix without a full page load. If you need this enabled for your main site, disable add to cart buttons in your shop pages. This can be done in the Social Commerce plugin options to affect only Facebook.
Checkout
Click the Checkout tab
Check Force secure checkout
UNCHECK Force HTTP when leaving the checkout

Force HTTP should only be checked if you are using a special payment gateway and unchecking it breaks your checkout process.
Social Commerce
Social Commerce is an extension designed specifically for use with the WooCommerce plugin. It uses a special shop theme that is designed for use in a Facebook page tab which takes your shop, product category and product content and displays it in a Facebook-branded interface with a custom sidebar, built-in social tools and security functionality. Your main site continues to use your chosen WordPress theme.
There are several reasons Social Commerce is an important part of your Facebook shop strategy:
Compartmentalization
Social Commerce is focused only on your shop and product pages, though it will support static page content such as your shipping policy and so on. This places focus on converting sales and monetizing your Facebook page by putting your visitors directly into your shop experience without distraction.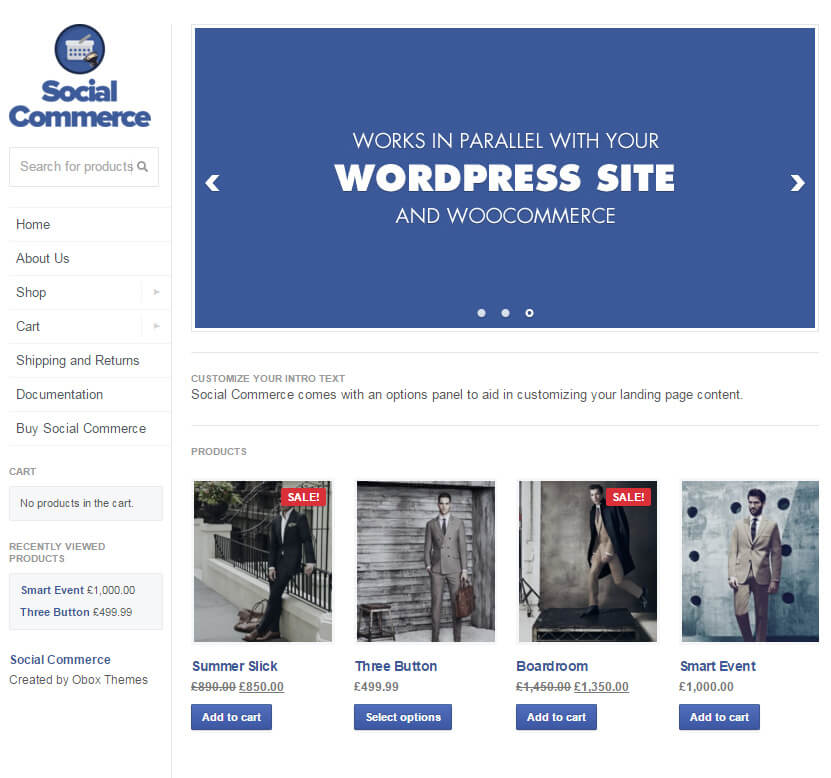 Continuity
The default look of Social Commerce is Facebook-centric, producing a seamless experience for Facebook users when they land on your shop's page tab. This Facebook presentation promotes trust in your visitors and increases the chance they will stay on Facebook, shop your products, and not be distracted by links or content that can take them away from that experience – a major downside of using your main site in Facebook.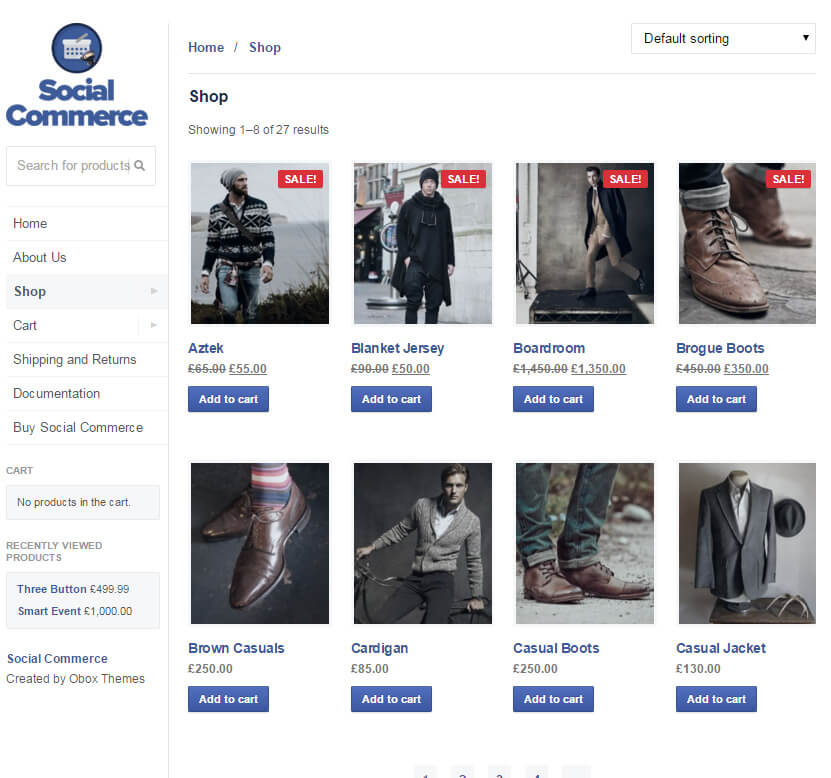 Functionality
Your main site may be full of neat functionality such as sliders, video, hover menus, popups or shortcodes which will produce unpredictable behavior when displayed inside an iframe on Facebook, secure or not. Facebook rules will stop some scripted elements from working until the user directly interacts with it, or will block it alltogether.
Social Commerce accounts for this in its minimal design to allow for a familiar, smooth browsing experience. As such, it is important to understand that functionality or design elements your main site's theme may provide, such as shortcodes, widgets and page templates, will not render in Facebook.
Security
Security is Facebook's first concern when it comes to iFrames. Social Commerce accounts for those rules and ensures your shop, product, cart and checkout processes can display and function without controversy, while providing a handoff to your chosen payment gatewayoutside of Facebook to satisfy any additional requirements from your gateway.
For example, Paypal does not allow itself to be used from within an "iframe" or the part of the page tab that displays the shop. When handling payments, therefore we send your buyers to your main site or directly to the gateway's payment page in a new browser tab. This is explained in more detail in the setup guide.
Install & Setup
Now that you understand the benefits and functionality of Social Commerce, you only need to install it and configure your customizations such as logo, landing page and menus. See How to Configure Social Commerce for detailed steps explaining setup.
Learn more at http://socialcommerceapp.co
Did you know?
Our friends at Jetpack are doing some incredible work to improve the WordPress experience. Check out Jetpack and improve your site's security, speed and reliability.